What is ACCESS STEM?
The ACCESS STEM program is a partnership between regional employers and educators that brings engaging student learning experiences with authentic and relevant workplace connections. The goal of this partnership is to have more students be able to access post-secondary certification and move into the future workforce with the 21st Century skills they need to thrive.
Educators are in a powerful position to influence student aspirations and provide access to experiences that build confidence and career awareness. Employers have a unique opportunity to help develop a qualified pipeline of future employees prepared to meet tomorrow's challenges. By partnering industry professionals with educators, we can increase the pool of talent in the Puget Sound region.
How does the program work?
In the summer, teachers participate in 10 days of collaboration and learning: 5 days of hybrid workplace immersion (in-person and online) and 5 days of professional development.
During the school year, educators work on teams of 3-4 educators and 3-4 industry volunteers to translate workplace experiences into classroom learning for students. Each team chooses a product to create. The overall goals of these products are to bring students relevant, work-based problems, to see the importance of 21st Century skills in their future careers, and to have access to real industry partners and diverse voices. The teams meet for ten online after school meetings between August and February. 
Volunteers from regional employers contribute by providing insight into the skills needed to be successful in their industry. They also talk about career opportunities in their sector and share firsthand understanding of real problems that are solved in their workplace. Industry partners also often visit classrooms to mentor students, discuss careers, or launch a problem. We aim for these industry-educator relationships to be long lasting.
In the spring, educators participate in their choice of career pathway sessions. These sessions include in-person tours and online presentations that offer career connected learning experiences with regional employers and higher education institutions. 
Participants celebrate their hard work at the annual Showcase of Success in May, an evening event with attendees including district superintendents, community leaders, and elected officials.
Who are the educator participants?
All 4th - 12th grade educators, including science, math, CTE, humanities, AVID, ELL, and Special Education classroom teachers
School counselors, library media specialists, instructional coaches, TOSAs, and curriculum specialists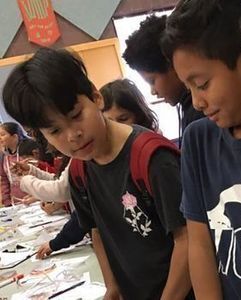 ---
Why do educators want to get involved?
By participating, educators will:
Increase their industry awareness and involvement in science, technology, engineering and math (STEM) education
Bring engaging, work-based problems to their classrooms to help all students be able to change their perceptions around pathways and skills needed in the workforce
Develop problem-based lessons that are aligned to state standards, and that incorporate 21st Century skills and information about career and educational pathways they observed in action at a worksite
Grow their leadership skills by bringing program learnings to colleagues and through opportunities for post-program mentoring and facilitating opportunities
Why do volunteers want to get involved?
By participating, volunteers will:
Increase students' understanding of relevant workplace topics and real-world scenarios
Collaborate on the development of learning materials for students
Share experiences and pathways related to educational or professional opportunities in their field
Foster relationships with K-12 educators across the region
---
Barbara Bromley 4th/5th-grade teacher at Hazlewood Elementary in Edmonds School District, along with some of her students, talk about the collaboration between teachers and industry partners and how 21st Century skills, problem-based learning, and career experiences benefit students.
---
Log in below to access session resources:
---
For more information, please contact info@wabsalliance.org.
"For me it was an amazing, eye-opening experience. It gave me a new perspective on the application of STEM, 21st Century Skills, and problem-based learning to the classroom."

-Teacher Participant