Kevin Stigerts, Director & Chief Engineer of Equipment & Tool Engineering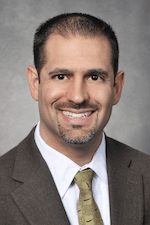 Kevin Stigerts is the Director & Chief Engineer of Equipment & Tool Engineering for Boeing Commercial Airplanes. Named to this role in October 2020, Stigerts serves as a Functional Leader to inspire and grow a technically adept and diverse workforce responsible for designing safe & high-quality production tooling & equipment solutions. Since 2011, Stigerts has held positions of progressive leadership in Boeing Commercial Airplanes (BCA) and Boeing Defense Space & Security (BDS). He led production engineering teams on the VC-25B presidential aircraft replacement, the New Middle Market Airplane (NMA), 777/777X, and 747 airplane programs. In addition, Stigerts served as an operations manager on the 767 program leading structures, joins, and functional test teams for both commercial and military derivatives.
From 2009 - 2011, Stigerts provided engineering support to the Enterprise Technology Strategy, where his analysis and recommendations influenced investment in Systems Engineering process & tools and Manufacturing fabrication & assembly technologies. Preceding those assignments, Stigerts held various software engineering & systems architecting positions in BDS and Boeing Research & Technology (BR&T). Prior to joining Boeing in 2004, Stigerts worked at Northrop Grumman developing human-in-the-loop simulations to support F-35 / JSF (Joint Strike Fighter) avionics development. He also had early career assignments at Microsoft and Unisys corporations.
Stigerts holds a Bachelor of Science in Information & Computer Science from the University of California at Irvine. He also holds a Master of Science in Systems Architecting & Engineering from the University of Southern California. Originally from Southern California, Stigerts currently resides in the Seattle area with his wife and two daughters. He enjoys flying airplanes, crossword puzzles, and golf.