Dr. Ivan Duran, Superintendent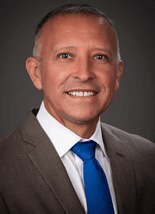 Dr. Ivan Duran is a proud product of public education. He was born and raised in Denver, Colorado. An early passion for reading and learning sparked his interest in being an educator. He has served over 30 years in public education, most recently as the Chief of Acceleration and Recovery for the Renton School District.
Dr. Duran previously served as superintendent for the Bellevue School District. As superintendent, Dr. Duran led with a focus on racial equity and inclusion, creating systems to support academic, social-emotional, and behavior development for all students. Prior to Bellevue, Dr. Duran was deputy superintendent of the Dallas Independent School District and assistant superintendent for elementary education for Denver Public Schools. He has also served as a principal supervisor, director of instructional technology, principal, assistant principal, and teacher.
Dr. Duran's core values include a passionate commitment to educational equity, dedication to continuous improvement aimed at results, and a collaborative and transparent leadership style. He holds a doctorate in Education Leadership and Policy Study from the University of Denver, a master's degree in Curriculum and Instruction from the University of Colorado, and a bachelor's degree in Elementary Education from Metropolitan State University of Denver.