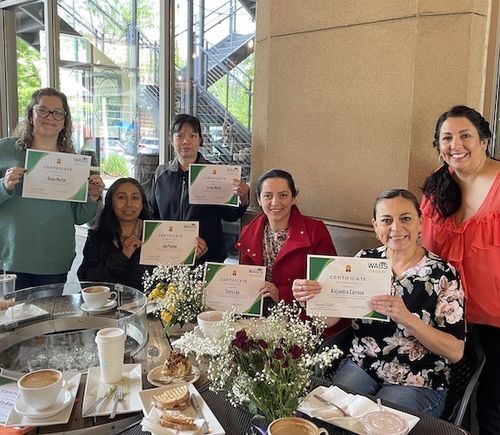 Natural Leaders serve as multi-cultural bridges between students, families, communities, and schools.
Parent engagement programs are oftentimes top-down school-directed training programs that teach parents how to help their kids succeed in their education. These programs are designed in ways that are assumed to be best for families, however, we don't always know what would be best without centering family voices first.
The WABS Natural Leaders program takes a different approach. Research has consistently shown student success to be highly correlated with the level of parent engagement. The Natural Leaders program gives families the tools to break down language, cultural, and systemic barriers so all families are empowered to engage.
The Natural Leaders program uses an asset-based model to help families identify and cultivate the skills necessary to overcome systemic barriers. Parents take on leadership roles in order to build stronger relationships with families and their children and identify best practices. They then take action in order to help families be successful in the school system and implement their ideas in partnership with the schools.
Who are Natural Leaders?
Natural Leaders are multi-cultural parents and family members that serve as a bridge between families, community, and school.
Why are they needed?
Natural Leaders represent the diversity of their school communities. Honoring their experiences and listening to their voice ensures more equity and access for all students.
What do they do?
Engage in new learning.
Create events families want.
Build relationships.
Strategies for Success
The Natural Leaders program is driven by the needs of the community and their families.
Each school community has different needs and trends.
Natural Leaders meet regularly to discuss the needs of families at their schools and think of ideas that would support families based on those discussions.
History
The Natural Leaders program has been growing for twenty years – it was developed by WABS in 2003 with parents in Shoreline, Everett, Edmonds, Mukilteo and Northshore schools with funding from an OSPI Readiness to Learn grant. Further support in 2011 from the Discuren Foundation helped expand the program into Marysville and Monroe schools districts. The Natural Leaders Program is cited by OSPI as a strategy for improving high school graduation rates for English learners.
---
For more information, contact our Equity and Family Engagement team.
Diana Martin, Everett School District, Natural Leaders Mentor

To me, Natural Leaders is a support group of parents helping parents navigate the school years. Being part of the Natural Leaders has helped me realize the importance of being in connection with our community and the schools. Many parents are not sure how to be involved, we as Natural Leaders are here to give those families voice and help them find their place in the school and community.